Blog - espnW
espnW Blog
Apr262013
12:37 PM ET | By Natalie Gulbis
I feel lucky to make an impact on kids' lives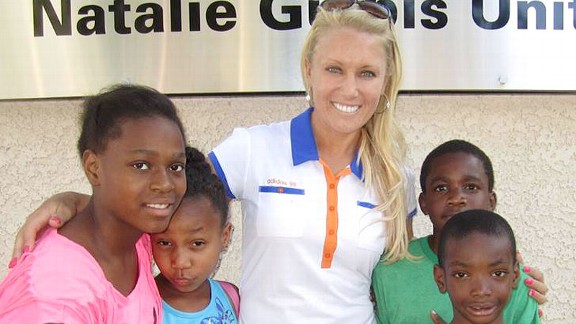 Courtesy Natalie Gulbis
What began as a dream while volunteering as a teen at Boys & Girls Clubs became a reality when Natalie Gulbis opened her own club on April 8.
I have been lucky in my professional career to enjoy many great moments, but not one golf accomplishment or tournament round compared with what I was so fortunate to achieve April 8. That is when we officially opened the Natalie Gulbis Boys & Girls Club near my home in Las Vegas.
Ever since I was a teenager volunteering at Boys & Girls Clubs in Sacramento with my dad, I knew I wanted to open a club of my own one day. I recently got to see that dream become a reality when I, along with more than 60 excited boys and girls, pulled back a banner that unveiled the Natalie Gulbis Boys & Girls Club.
[+] Enlarge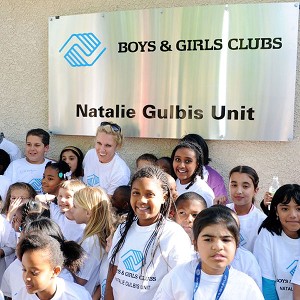 Courtesy Natalie GulbisMore than 60 kids were on hand for the grand opening of the Natalie Gulbis Boys & Girls Club.
The club will provide its members programs such as the PGA Sports Academy program, which introduces youth to the sport of golf and parallels the mission of the Boys & Girls Clubs of America. That mission is to enable all young people, especially those who need us most, to reach their full potential.
The mission of the Boys & Girls Club is something that has resonated with me for a long time, especially having grown up in a part of Sacramento where I could see the need for an organization like this firsthand. I feel so incredibly lucky to get to have a positive impact on kids' lives.
To know that because of my golf career more kids will have a safe place to learn and grow after school is something I have a hard time describing in words. The grand opening of the Natalie Gulbis Boys & Girls Club was an incredible day, and I am so grateful to all my marketing partners, my family, friends, individuals in the golf industry, my coach, Butch Harmon, and the team at IMG for making this possible. It's a dream come true!
After the 3 p.m. opening, I had the chance to take a group of kids out to the golf course. We had such a great time. Many had never played golf or even hit a shot. I was amazed how good some of their swings were. It was a joy to see how excited they were to be out at the driving range and how much they did not want to go home from the course. I can't wait to take them back in a few weeks after my next stretch of events on tour.
To end the week, we had a pizza party at the club. I brought in 15 pizzas, which got eaten in 30 seconds flat by the more than 60 kids that were there that day.
After pizza, some of the kids competed in a spelling bee while others went outside with me and played kickball and football. What can I say? Spelling was never my best subject!
I was also able to leave them an Xbox 360 along with the EA Sports Tiger Woods 2014 game so they can learn more about golf.
For each birdie I make this season, the kids put a cutout of a bird on the wall and I donate $100 to the club. It's just another reason to make more birdies
In my first round after announcing the pledge, I made six birdies!